This is the side of the old Post Office on the corner of Henry St and Great North Rd in Five Dock. This site was recently used as a shop, but has been vacant for the last few months. As soon as the business renting the site, moved on, this alcove quickly became quite vandalised. The property manager seemed to have arranged for the site to be cleaned up, but it has just started to attract graffiti again. Also note the sign hanging by one bolt - it looks like that has been done deliberately.
It is interesting to note who has their office across the street, and whether they will take note of this and chase it up to get it fixed.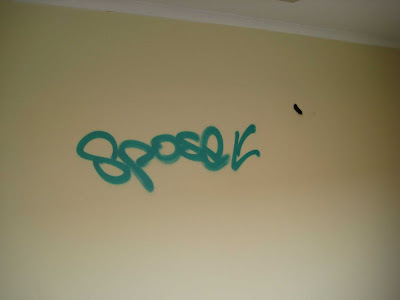 It's easy finding who to contact for this one -
Time Real Estate
(they have a big "for rent" sign around the corner).  I rang them this morning and told them that graffiti was reappearing and could they ever so kindly clean it off.  It should be dead easy for them to check, as their office is only 50 metres up the road.